Abby Holland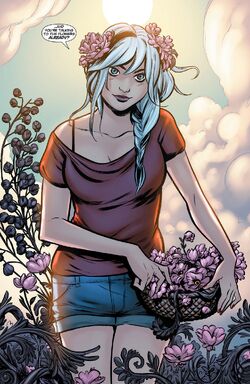 Abigail "Abby" Arcane Cable Holland is a fictional comic book character in the DC Comics Universe. She is the wife and partner of the Swamp Thing and is the mother of Tefé Holland. Holland possesses natural shining white hair, the color of fresh snow, with two overlapping black streaks of hair starting from above her evenly wide forehead. Holland's psychic powers include empathy, telepathy and telekinesis.
Swamp Thing took possession of John Constantine's body, which he used to make love to Abby Holland. The intercourse would later result to a daughter whom they named Tefe. She later makes a came appearance in Hellblazer issue 200, where she was murdered by John's son Saul in an alternate reality.
Community content is available under
CC-BY-SA
unless otherwise noted.